Most Popular

It's been a while since I last posted, yet again. I've been paying a fair bit of attention to the we... Read More!
Posted in 2 on 23-02-2019 18:23
I was doing a bit of reading on Sunday night and came across a scan from an amstrad magazine from Fe... Read More!
Posted in 2 on 17-12-2018 16:05
Loading software from a computer with an audio file was working fine (with the correct settings on t... Read More!
Posted in 4 on 10-04-2019 11:29
I was looking through the contents of the cassette that came with the ... Read More!
Posted in 2 on 12-01-2019 15:28
So you've got the floppy drive all powered and plugged in, but got no Amstrad CPC software on 3.5" d... Read More!
Posted in 2 on 21-06-2019 19:35
Gee-k.net
Oh another cpc464

Created on: 31-12-2018 By Gee
A while back I found and bought another cpc464 on eBay that was needing some TLC whilst I was looking for a machine for modifying. One that I wouldn't feel bad about drilling holes into the case for an audio input jack.
The buttons for the cassette deck are broken and will need replacing. I'd like to make the buttons myself, but I'm not sure what to make them out of yet. Or how to make them.
I was very close to buying a German amstrad (not Schneider) that was close by but decided against buying yet another 464 just for the sake of it. If I do get a German one, it'll be a Schneider one as I believe there are some pin layouts that are slightly different somewhere (in the 6128 the disk drive ribbon is the change I think, but I'll...
Read More!
---
Drawing the logo in BASIC

Created on: 22-12-2018 By Gee
I gave myself a lesson in drawing things to the screen in BASIC. It took a good long while but I eventually got the hang of it. I'm sure there must be another way of drawing the amount to screen that I have. Otherwise drawing anything in games would take forever too.
I saved my work to some cassette and disk files if anyone else wants to see my "handy work" and then offer advice on how it could be done quicker and better....
Read More!
---
First delves into locomotive BASIC

Created on: 17-12-2018 By Gee

I was doing a bit of reading on Sunday night and came across a scan from an amstrad magazine from February 1991.
In the scan was a "10 line" type in bit of BASIC coding. I say "10 line" because there was so many commands in each line separated by the use of ':'.
This of course made things a bit more difficult when it came time to debug the program after having copied the lot out and it didn't run. If I remember correctly, they rarely did run 1st time due to some spelling mistake, missing a dot or using ';' instead of ':'. Another reason I hate using the ':' for different actions. Just use a new line!
However, due to this program not working correctly I found a way of making debugging slightly easier. "How?" do I...
Read More!
---
Repair Station

Created on: 07-12-2018 By Gee
I've been using a very old soldering iron which was left in the loft by the previous occupants of our home and it's... well, it's like trying to use a hot spade to make soldering joints.
Not only that, I don't quite know what I'm doing when it comes to soldering. I've never done much of it, and when I have it's not gone very well sadly.
I tried using the old soldering iron (which is an on or off type) to solder on the header to my raspberry pi zero. It didn't go well at all as the iron was too large to even get near the through-hole pads.
I've got a few things planned for my raspberry pi which needs the header on it (mainly learning about electronics and basic circuits) so the header pins will need sorting.
Becau...
Read More!
---
Amstrad Purchases

Created on: 25-11-2018 By Gee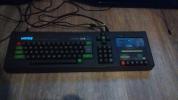 Back in the 1990's me and my siblings used to play on our family Amstrad CPC 6128. Mainly we played
chuckie egg
and used a book that we had to code things in Amstrad BASIC. I remember copying some BASIC code from the book that felt like it took forever and then all it done was print some circles in random spots of the screen. But it felt great to have coded something that made the computer do things!
The screen we had was monochrome green screen (I believe it was the GT65) and I didn't even realise there was a colour monitor available.
Cut to this month (November 2018) and I have bought a 6128 with two colour monitors. Both of the monitors have is...
Read More!
---
1
2
3
4
5
6
7
8