Most Popular

I was looking through the contents of the cassette that came with the ... Read More!
Posted in 2 on 12-01-2019 15:28
So you've got the floppy drive all powered and plugged in, but got no Amstrad CPC software on 3.5" d... Read More!
Posted in 2 on 21-06-2019 18:35
It's been a while since I last posted, yet again. I've been paying a fair bit of attention to the we... Read More!
Posted in 2 on 23-02-2019 18:23
Quite some time ago I bought a DDI-1 interface to use with my amstrad 464's. Just the interface with... Read More!
Posted in 2 on 16-12-2020 22:33
So if you've followed the previous blog posts about making a PC 3.5" floppy drive work with your Ams... Read More!
Posted in 2 on 07-07-2019 19:11
Gee-k.net
Amstrad GX4000

Created on: 29-11-2019 By Gee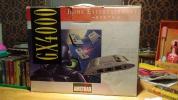 Ever heard of the
Amstrad GX4000
? you probably have by now if you're on this website, but back in the 90's you, like me, probably had no idea it even existed.
I found out about it in the last couple of years and never really thought much about it. There are only a few games released for it and most are pretty poor. The console itself is actually a 464plus with bits removed basically (tape deck and keyboard). In fact i think you might be able to add these back onto the board and make the gx4000 into a 464plus computer. That could be interesting! anyway, as per usual, I digress.
As I am am an avid amstrad enthusiast, I have some alerts se...
Read More!
---
Gaming on the 464

Created on: 05-02-2019 By Gee
Now that I have a usable controller to use with my amstrad(s) in the form of a prototype, I have been looking for games to play with it.
There was quite a bit of Hype about
the CPC retro Dev 2018
on various social media platforms and forums. I seen one game in particular a few times and that was
Operation Alexandra
. I downloaded this, recorded it to cassette, fired it in and loaded it up. The start up story was great to watch (the first couple of times) and made me smile with nostalgic feelings. I played this for a few minutes and felt like my prototype controller was ...
Read More!
---
1