Most Popular

I was looking through the contents of the cassette that came with the ... Read More!
Posted in 2 on 12-01-2019 15:28
So you've got the floppy drive all powered and plugged in, but got no Amstrad CPC software on 3.5" d... Read More!
Posted in 2 on 21-06-2019 18:35
It's been a while since I last posted, yet again. I've been paying a fair bit of attention to the we... Read More!
Posted in 2 on 23-02-2019 18:23
Quite some time ago I bought a DDI-1 interface to use with my amstrad 464's. Just the interface with... Read More!
Posted in 2 on 16-12-2020 22:33
So if you've followed the previous blog posts about making a PC 3.5" floppy drive work with your Ams... Read More!
Posted in 2 on 07-07-2019 19:11
Gee-k.net
Amstrad GX4000

Created on: 29-11-2019 By Gee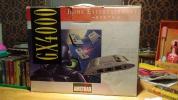 Ever heard of the
Amstrad GX4000
? you probably have by now if you're on this website, but back in the 90's you, like me, probably had no idea it even existed.
I found out about it in the last couple of years and never really thought much about it. There are only a few games released for it and most are pretty poor. The console itself is actually a 464plus with bits removed basically (tape deck and keyboard). In fact i think you might be able to add these back onto the board and make the gx4000 into a 464plus computer. That could be interesting! anyway, as per usual, I digress.
As I am am an avid amstrad enthusiast, I have some alerts set on certain websites so that when ever something gets added for sale with the name amstrad, I get an email. Now I get a lot of these emails and usually the items are not what i'm after, what I already have or just too far away for me to consider going to collect it. But one day recently a GX4000 came up in my inbox and I was intrigued. It wasn't too far away and it was a great price (£85 in 2019, avg being around £100 or more on eBay). Initially I left it, thinking "I don't need a GX4000. Whats the point in one of those". However, a week later I found myself going through my emails again and noticed it there. Just winking at me. "buy me!" I swear it said, although that could've been me talking to myself.
I sent the person a message to ask if it was still available, thinking that it probably got snapped up in the week that it had been advertised. To my surprise it was still available and he was willing to take a little bit less if I collected it that night. So off I went! nothing else for it!
When I got there, it was set up waiting for me to test it and check it over. It was obviously a European one that had been brought over to the UK at some point due to the eu power supply. But all worked and the packaging was all original with minimal discolouration.
I gave the gent some notes and set on my way back home with my "new" gx4000.
When I got home, I had to try give it a shot and show my ever suffering wife my latest purchase. I took it out of the box and noticed that it smelled of cigarette smoke. I have no idea how to get rid of it, short of putting a car air freshener inside the case. I then realised we had no adapter to go from an eu plug to a uk one. So I set about on a search for a replacement and found some info on the
CPCWiki.eu
website that the power supplies that came with the machines were notorious for failing and destroying the machines. I done some more searching and found
a suitable PSU on rs-online
. It was fairly cheap for a good quality PSU, and it can be used all over the world. You just need to buy the pins to suit your country.
So, now that I have my new PSU and I have played
Burning Rubber
, I found that i'm pretty useless at it.
Having a GX4000 has made me think about the programs that I could make for the plus/gx4000 series. This series of 8 bit computers have an amazing amount of colours in its colour pallet and some hardware sprites. Some pretty good games could be made for this.
I just need to find the time to code something...