Most Popular

I was looking through the contents of the cassette that came with the ... Read More!
Posted in 2 on 12-01-2019 15:28
So you've got the floppy drive all powered and plugged in, but got no Amstrad CPC software on 3.5" d... Read More!
Posted in 2 on 21-06-2019 18:35
It's been a while since I last posted, yet again. I've been paying a fair bit of attention to the we... Read More!
Posted in 2 on 23-02-2019 18:23
Quite some time ago I bought a DDI-1 interface to use with my amstrad 464's. Just the interface with... Read More!
Posted in 2 on 16-12-2020 22:33
So if you've followed the previous blog posts about making a PC 3.5" floppy drive work with your Ams... Read More!
Posted in 2 on 07-07-2019 19:11
Gee-k.net
Controller prototype mk1 internals finished

Created on: 26-01-2019 By Gee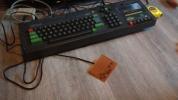 My Megadrive extension cable arrived in the post yesterday, so today I set about wiring up the last bits of the prototype controller.
I'm new to soldering, so there was a few screw ups on the way. I had to remove the original header pins that I soldered on as I had removed the plastic that holds them together and in place. I then had to re-solder them and the pins moved a lot as nothing was holding them there except the solder that I was now re-flowing. I thought that the best idea would be to remove them and put a new one on. I had to place it in new holes as I removed some copper pads accidentally.
After the new header pins were on, I soldered in all the wires to the buttons with purple wire as I only have black, red and purple at the moment. It doesn't make any difference to me as it's really easy to follow each individual wire anyway.
I then set about making the cable that connects to the joystick port of the Amstrad. It felt a bit of a shame to just cut one end of the new cable, but that's what I bought it for! I kept a little bit of cable sticking out of the part I cut off, just in case I want to make a joystick port splitter in the future. Two player madness!
I had no idea what colour of wire related to what pin of the 9 pin plug, So I got a bit of wire, put it in the hole for pin one, put the other end of the wire into a breadboard where I am making the Ben Eater computer and then touched each coloured wire onto the live cable to complete the circuit to my LED. When the light came on, I knew I had the wire connected to the pin. I done this for each of the 9 pins until I had noted each one.
If anyone gets one of these cheap Megadrive cables on eBay, the wires are as follows:


pin 1 up red


pin 2 down black


pin 3 left grey


pin 4 right orange


pin 5 fire 3 brown


pin 6 fire 2 green


pin 7 fire 1 white


pin 8 gnd blue


pin 9 gnd yellow


I got all of these wire soldered onto the relevant place on the header and made sure the cable was attached in a way that it wouldn't just rip out when I was moving about with it.
Et Voila!
I plugged the controller into the Amstrad and pressed the buttons. All the relevant related characters came up on screen and when I put
1943
in and loaded it up, I played away with no hassle what so ever.
I managed some pretty good scores for my 2nd time playing it. I'm sure I could do better though!
Now I have the inners to a prototype, I Will see about making a case for it. I'll need to get a 3d printer to get some cases made. I already have one in mind.
Stay tuned to see what happens next!