Most Popular

I was looking through the contents of the cassette that came with the ... Read More!
Posted in 2 on 12-01-2019 15:28
So you've got the floppy drive all powered and plugged in, but got no Amstrad CPC software on 3.5" d... Read More!
Posted in 2 on 21-06-2019 18:35
It's been a while since I last posted, yet again. I've been paying a fair bit of attention to the we... Read More!
Posted in 2 on 23-02-2019 18:23
Quite some time ago I bought a DDI-1 interface to use with my amstrad 464's. Just the interface with... Read More!
Posted in 2 on 16-12-2020 22:33
So if you've followed the previous blog posts about making a PC 3.5" floppy drive work with your Ams... Read More!
Posted in 2 on 07-07-2019 19:11
Gee-k.net
Amstrad 3.5" Floppy drive Getting the Ready signal

Created on: 16-06-2019 By Gee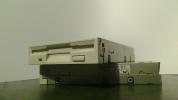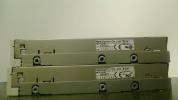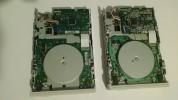 Hey again folks.
I now have a working 3.5" floppy drive that I have loaded software onto using my pc, then it has read fine on the Amstrad.
This has opened up a whole plethora of software for me to be able to use on my Amstrads, and what do I go and use on it? An address book! I've been meaning to note down all my families addresses for an age, so this gave me an excuse to use my Amstrad for something constructive.
So! how is it done? Well, it's quite simple actually. I read over
an article on how to set the ready signal
on a specific drive. After which I found, and bought two of them on eBay. The ones I bought were Mitsumi newtronics d359t5 a...
Read More!
---
Amstrad PowerPage 64

Created on: 07-05-2019 By Gee
I'd seen a while back about desktop publishing software that ran on the CPC range of computers and it made me want to have a go.
At Christmas I was gifted an Amstrad Action cover tape that had lemmings and a few other things on it. One of the few other things was PowerPage 64k version. I never really thought about it much as I was only in the possession of 464 computers and not a 6128 (I owned one but it wasn't with me at the time) and PowerPage required a disc drive to copy the data over to and then run from there.
If we fast forward to last week, My cpc 6128 was dropped off by a mate along with my two colour monitors. I set the 6128 up and had a little play about to check it over. I then set up the cassette input (as I had b...
Read More!
Associated files
---
Amstrad Controller STL files

Created on: 22-04-2019 By Gee

I mentioned a while back that I was going to share the STL files so you can make the Amstrad controllers at home (if you have a 3d printer). So here they are!
I wanted to make sure I had the correct files as I had made several versions. This was due to testing several things then forgetting to write down which ones were the ones that worked best.
These files MUST NOT be used for making and selling the controllers under any circumstances. The designs are all my own work and belong to me. I am releasing them in good will to help the Amstrad community make their own controllers as they helped me and continue to do so with several things....
Read More!
Associated files
---
Amstrad Splitter Cable PCBs

Created on: 17-04-2019 By Gee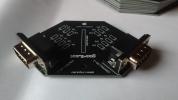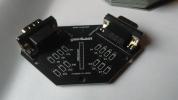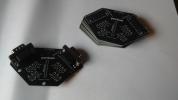 Ever since I realised that I could use 2 controllers or joysticks on the Amstrad CPC series, I had to try make some splitters.
A couple of weeks ago I drew up the schematics and then the PCB layout on CAD. Once I was happy with them I had the same company that produced my Controller PCBs make them.
Yesterday I took delivery of them and, they look great. Exactly what I was after, if not better!
Last night, when the little one was finally in bed, I set about soldering up the ports, diodes and the connecting cable that goes to the CPC. I soldered up one side and noticed that I was getting some odd results. The only button that was working when using the splitter was the fire 1 button. Then I found out that If I held down t...
Read More!
---
Amstrad Controller

Created on: 16-04-2019 By Gee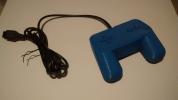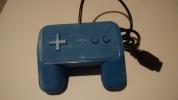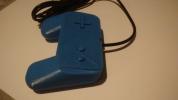 After using my completed controller, I realised pretty soon that it wasn't very comfortable to use.
It worked great, but not very ergonomic. Now rather than redesign the whole thing, I made a surround for it to fall into. I drew it up pretty quick and then printed out a draft to see where I had made any errors. Thankfully, the errors I did make were quite simple and easy to fix. So I set about making another one with the corrections.
After this was all done, I had a great controller! Even if I do say so myself. I realise that it's a bit small, but it works well and is super easy to use.
The first night after it was all put together, the wife sat and had a game of Tetris with me.
I'm looking forward to sitting chi...
Read More!
---
Previous Page
1
2
3
4
5
6
7
8
9
Next Page