Most Popular

It's been a while since I last posted, yet again. I've been paying a fair bit of attention to the we... Read More!
Posted in 2 on 23-02-2019 18:23
I was doing a bit of reading on Sunday night and came across a scan from an amstrad magazine from Fe... Read More!
Posted in 2 on 17-12-2018 16:05
Loading software from a computer with an audio file was working fine (with the correct settings on t... Read More!
Posted in 4 on 10-04-2019 11:29
I was looking through the contents of the cassette that came with the ... Read More!
Posted in 2 on 12-01-2019 15:28
So you've got the floppy drive all powered and plugged in, but got no Amstrad CPC software on 3.5" d... Read More!
Posted in 2 on 21-06-2019 19:35
Gee-k.net
Audio Input

Created on: 27-01-2019 By Gee
One mod that I found a while back that really peaked my interest was the audio input jack on the cpc464. This mod allows you to bypass using an old cassette to play audio files straight into the Amstrad. This means you are able to load software without having to record it to tape and hope that the recording went ok.
I bought some 3.5mm audio jacks when I ordered the parts to make my
Amstrad Controller
. Once they arrived I had a look over
the how to
page on the
CPCWiki.eu
website and followed the instructions there.
After I had everything soldered in, ...
Read More!
---
Controller prototype mk1 internals finished

Created on: 26-01-2019 By Gee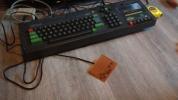 My Megadrive extension cable arrived in the post yesterday, so today I set about wiring up the last bits of the prototype controller.
I'm new to soldering, so there was a few screw ups on the way. I had to remove the original header pins that I soldered on as I had removed the plastic that holds them together and in place. I then had to re-solder them and the pins moved a lot as nothing was holding them there except the solder that I was now re-flowing. I thought that the best idea would be to remove them and put a new one on. I had to place it in new holes as I removed some copper pads accidentally.
After the new header pins were on, I soldered in all the wires to the buttons with purple wire as I only have bl...
Read More!
---
Making a custom joypad for the Amstrad CPC

Created on: 23-01-2019 By Gee
I have tried playing some of the games that I have for the CPC 464 using the joystick that I got with the first one that I bought.
The problem with this joystick is that the buttons sometimes don't register and the directions sometimes don't work very well. You can't blame it when it's over 30 years old!
So I thought I'd make a joypad for the CPC myself. I don't see any for sale that are specific for the CPC and new.
The Joypad is going to be similar to an old NES or MasterSytem control pad. Rectangle and simple. What else do you need for retro gaming?!
I ordered a few prototyping boards and a few other items to make the start to my Joypad. They arrived a couple of days ago and I got to work making the st...
Read More!
---
Amstrad Papercraft!

Created on: 23-01-2019 By Gee
I was searching about the internet for all things Amstrad a while back and came across
rockybergen.com Amstrad CPC 464 Papercraft
and I got all excited.
I'd never made any papercraft stuff before but thought it looked pretty cool. Right up my street.
Fast forward to Last week and I remembered about this. I downloaded it onto my work computer (during lunch! honest boss!) and printed it off at the end of my shift onto a4 paper. Sadly the printer in the office only prints in black and white. But I got it printed out and took it home anyway.
Once I got home and the baby was asleep, I set about making this little beast. It was a lesson in...
Read More!
---
Commodore Invasion

Created on: 16-01-2019 By Gee
My Father-in-Law was pestering me a while back to sell some "old computers" for him and I had mentioned at the time that I wasn't so keen on helping as they don't fetch much money.
Now, that was quite unusual for me as I quite like old tech (you'd never have guessed eh!?). But at the time I didn't have the inclination to deal with them.
After having spent so much time watching people fix their old computing equipment on YouTube I thought I'd at least have a look at these computers. I asked if the computers could be looked out and I'd get things set up to get them sold on.
I was told that there was a boxed c64 (more modern style, not a breadbin sadly) with cassette drives and a pair of joysticks. Three or four am...
Read More!
---
1
2
3
4
5
6
7
8