Most Popular

It's been a while since I last posted, yet again. I've been paying a fair bit of attention to the we... Read More!
Posted in 2 on 23-02-2019 18:23
I was doing a bit of reading on Sunday night and came across a scan from an amstrad magazine from Fe... Read More!
Posted in 2 on 17-12-2018 16:05
So you've got the floppy drive all powered and plugged in, but got no Amstrad CPC software on 3.5" d... Read More!
Posted in 2 on 21-06-2019 19:35
I was looking through the contents of the cassette that came with the ... Read More!
Posted in 2 on 12-01-2019 15:28
Loading software from a computer with an audio file was working fine (with the correct settings on t... Read More!
Posted in 4 on 10-04-2019 11:29
Gee-k.net
GT65 Monochrome Monitor

Created on: 05-02-2019 By Gee
Back in the 90's the family computer was an Amstrad cpc 6128 with a monochrome green screen GT65 monitor.
Since I started getting back into Amstrads I've been looking for one of these monitors again and I found a few in all sorts of different locations. Mostly in England and a few in Wales. Also find them in Germany and France, but never any really in Scotland.
That is until last week when one came up for sale in Edinburgh. I felt that the £30 asking price was a little higher than usual (I've seen them being given away or being sold for £10) but I wasn't too fussed as I knew that if I bought one from England, the couriers would probably destroy it on its way to me and the delivery charge would end up being the same overall....
Read More!
---
Gaming on the 464

Created on: 05-02-2019 By Gee
Now that I have a usable controller to use with my amstrad(s) in the form of a prototype, I have been looking for games to play with it.
There was quite a bit of Hype about
the CPC retro Dev 2018
on various social media platforms and forums. I seen one game in particular a few times and that was
Operation Alexandra
. I downloaded this, recorded it to cassette, fired it in and loaded it up. The start up story was great to watch (the first couple of times) and made me smile with nostalgic feelings. I played this for a few minutes and felt like my prototype controller was ...
Read More!
---
CPC464 blue power LED

Created on: 27-01-2019 By Gee
This modification is one that was done just for the hell of it. I have so many LED's for creating my Ben Eater computer, and I'm not that far on with it yet as I've been doing other things like making this website.
I hope to get a bit more of it done in the coming months and document it on here.
Anyway! I digress again.
I opened up the CPC464 that I have for modding and took the keyboard out to get access to the power LED circuit. After de-soldering the old LED, I simply put in a blue one from my packet and made it fit as far down onto the pcb as I could, as it was a slight bit bigger than the original.
It was a tight fit, but it all went back together fine, and I now have a blue power light on my second ...
Read More!
---
Audio Input

Created on: 27-01-2019 By Gee
One mod that I found a while back that really peaked my interest was the audio input jack on the cpc464. This mod allows you to bypass using an old cassette to play audio files straight into the Amstrad. This means you are able to load software without having to record it to tape and hope that the recording went ok.
I bought some 3.5mm audio jacks when I ordered the parts to make my
Amstrad Controller
. Once they arrived I had a look over
the how to
page on the
CPCWiki.eu
website and followed the instructions there.
After I had everything soldered in, ...
Read More!
---
Controller prototype mk1 internals finished

Created on: 26-01-2019 By Gee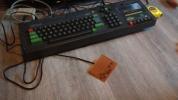 My Megadrive extension cable arrived in the post yesterday, so today I set about wiring up the last bits of the prototype controller.
I'm new to soldering, so there was a few screw ups on the way. I had to remove the original header pins that I soldered on as I had removed the plastic that holds them together and in place. I then had to re-solder them and the pins moved a lot as nothing was holding them there except the solder that I was now re-flowing. I thought that the best idea would be to remove them and put a new one on. I had to place it in new holes as I removed some copper pads accidentally.
After the new header pins were on, I soldered in all the wires to the buttons with purple wire as I only have bl...
Read More!
---
1
2
3
4
5
6
7
8
9