Most Popular

I was looking through the contents of the cassette that came with the ... Read More!
Posted in 2 on 12-01-2019 15:28
So you've got the floppy drive all powered and plugged in, but got no Amstrad CPC software on 3.5" d... Read More!
Posted in 2 on 21-06-2019 18:35
It's been a while since I last posted, yet again. I've been paying a fair bit of attention to the we... Read More!
Posted in 2 on 23-02-2019 18:23
Quite some time ago I bought a DDI-1 interface to use with my amstrad 464's. Just the interface with... Read More!
Posted in 2 on 16-12-2020 22:33
So if you've followed the previous blog posts about making a PC 3.5" floppy drive work with your Ams... Read More!
Posted in 2 on 07-07-2019 19:11
Gee-k.net
Buy Amstrad CPC Controllers

Created on: 05-03-2020 By Gee
Just a quick post here as, in
Jan Beta's latest video
, he has advertised the controllers (£25+p&p) that I designed and made for the Amstrad CPC.
If you're looking for one of these, Send me a message via
twitter
or use the
contact page
and i'll get back to you.
These controllers take a while to make so I'll let you know if there's a delay to making them or not....
Read More!
---
Replacing my lost floppy drive ability

Created on: 15-02-2020 By Gee
My recent PC build has meant that I now have a super fast computer, in comparison to the old beast I had. I say had, because I gave it to a friend who was using an old mac laptop (and it also got the huge massive pc case out of the house where space it currently at a premium).
I didn't exactly want to get rid of the old computer due to a couple of reasons. The main one being I'm a hoarder Collector of computers. That PC was made when XP was still very much king. Windows Vista was new, but was slated for taking up so much system resources. Just like any new Windows OS on release I suppose. Yet again I digress.
The other reason I didn't want to get rid of that computer was due to it still having the ability to n...
Read More!
---
A new desktop PC in over a decade

Created on: 28-01-2020 By Gee

When I was at college studying computing tech support, I built a PC with the best of things that I could reasonably put on my credit card and not feel too bad about the debt. I was young and stupid, now I'm just stupid.
That PC had a (brand spankin' new at the time) core 2 quad Q6600 2.4Ghz CPU in a XFX nForce 790i Ultra SLI motherboard. I fitted it with 2GB of DD3 RAM (which was fairly decent in 2008 AND DDR3 was quite rare to use then), Two XFX GeForce 8800 GS Graphics cards running in SLI and no idea what HDD I was using. This was a time when 4:3 aspect monitors were still available and that's what I was using for a while (until I bought something from a college friend). Windows XP was still king. Windows Vista was on the cards bu...
Read More!
---
Amstrad GX4000

Created on: 29-11-2019 By Gee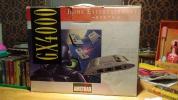 Ever heard of the
Amstrad GX4000
? you probably have by now if you're on this website, but back in the 90's you, like me, probably had no idea it even existed.
I found out about it in the last couple of years and never really thought much about it. There are only a few games released for it and most are pretty poor. The console itself is actually a 464plus with bits removed basically (tape deck and keyboard). In fact i think you might be able to add these back onto the board and make the gx4000 into a 464plus computer. That could be interesting! anyway, as per usual, I digress.
As I am am an avid amstrad enthusiast, I have some alerts se...
Read More!
---
Making BASIC more complicated

Created on: 18-10-2019 By Gee

My previous post was about me learning how to make a program in BASIC, and it worked!
There was a little bit of complicated math (for my brain), but it wasn't exactly an awe inspiring program. So I decided I would make it a bit better. Make it so that you can use it over and over just by using the arrow keys to select your day, month, year and it would automatically update the day of the week on the fly.
So that's exactly what I've done. So technically I've actually made my 1st ever real Amstrad program. wooo!
Anyway, back to the point.
I started by making my layout, placing the "Day Month Year" labels where I wanted them and then then placing the arrows above and below them. Then I put some placeholder date text...
Read More!
Associated files
---
Previous Page
1
2
3
4
5
6
7
8
9
Next Page